FUNMAS 3-in-1 Indoor Dryer Vent
FUNMAS 3-in-1 Indoor Dryer Vent, Stainless Steel Screen Filter, Polyester Filter and Water Drawer System, Upgrade Safety Vent Flap, with 4 Pieces Polyester Filters, For Electric Clothes Dryers
FUNMAS 3-in-1 Indoor Dryer Vent details
The Solution to Your Indoor Lint and Dust Problem.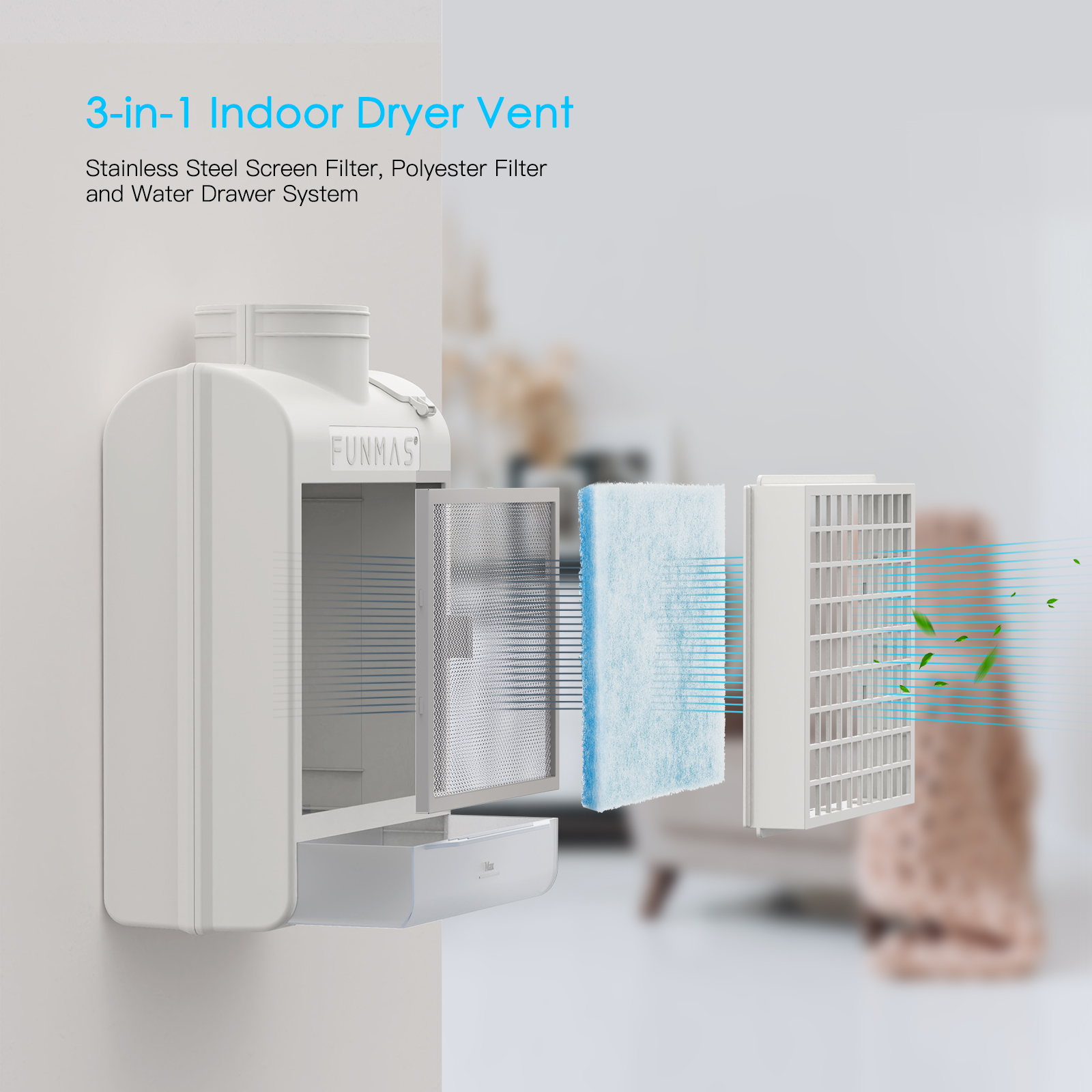 【3 in 1】: Our FUNMAS indoor dryer vent is a 3-in-1 design, with fine stainless steel filter screen, polyester filter and water drawer system, give you the right to choose freely. Effective capture lint, dust, pet hair. Stainless steel filter screen and water drawer system can capture something large and heavy, polyester filter traps the finest dust particles ensures a healthy indoor environment.

【EASY TO CLEAN】: Gently press to open the dryer vent door, scrape the lint off the back of the filter, the lint from the screen drops into the water drawer or take it off and wash it with water. Empty the drawer and add with fresh water. The stainless steel screen never has to be replaced. We do not recommend washing the polyester filter with water. Simply remove from the FUNMAS unit and vacuum with a hose attachment or a hand vacuum. Comes with 4 polyester filters for replacement.

【INSTALLED UPSIDE DOWN & SAVE ENERGY】: This dryer vent upward design of the air outlet connecting the air duct, avoid large-capacity lint, dust, pet hair and weights from falling into the air duct, blocking the air duct or even damaging the dryer. The warm air released by the dryer returns to the room, saving energy in winter.

【SAFETY ALERT FEATURE】: There is a safety vent flap near the duct interface. When you forgetting to clean the screen or filter, the safety vent flap will automatically open to keep your dryer from overheating, this indicates that you need to clean the dryer vent. It come with 5 calibration weights, when installing, you need to install corresponding weights according to the power of your dryer. Most users need 2 to 3 weights. The weights are made of metal and is not easy to fall off.

【PRODUCT MAINTENANCE AND PRECAUTIONS】: Please clean the filter and water drawer regularly, usually need to do it every 6-12 dryer loads. It is best to use an aluminum duct to connect this dryer vent.You can installed this dryer vent on a flat wall or right on the side of the dryer. There will be a certain amount of humidity when the dryer is running, you can open the window appropriately or use it with a dehumidifier.